40 Arpent Wetlands Observatory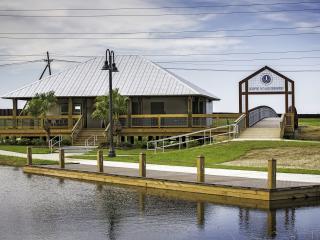 A great little boathouse with a lagoon providing access to the 40 Aprent Canal for canoeing, kayaking, paddle boating, fishing, and general nature observation. Cross the pedestrian bridge to observe the central wetlands unit. Admire the old cypress trees and watch for native birds. Will be available for rentals soon - please call us for details in the meantime.
For more information please email Denise Montalbano at dmontalbano@sbpg.net 
Hours of Operation:
Monday-Friday 8:30am-4:30pm
Expanded evening & weekend hours are planned!